Knitting Tutorial • k2tog (Knit Two Together) • [decreasing]
Here's a knitting tutorial for how to k2tog. If you have never done this before it's worth taking a few minutes to learn. This is a super easy way to decrease by one stitch at a specific location, and the term is used in many patterns so it's a good one to know.
The Essence of the stitch: k2tog
All you are doing with this stitch is knitting into two stitches as if they were one.
This will allow you to decrease by one stitch.
k2tog blends nicely into your work leaving you with a minimally visible decrease line.
Video:
Check out the little video below for a quick demo (knitting tutorial k2tog):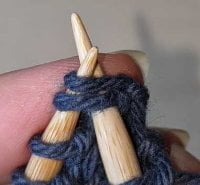 Please subscribe to my youtube channel! 🙂
Steps for knitting tutorial k2tog:
slip your needle into two stitches (the same way as you would if you were to simply knit a single stitch)
Knit the two stitches together as if they were a single stitch
.
so that's how to decrease by one stitch using k2tog! 🙂